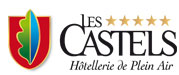 Overall score
7,9/10
322 comments
ANIMATION
Host: M Laurent RASPAUD

Opening dates
26/03/2016 to 28/10/2016
All services from -
206
Situated in the Pyrénées Orientales département, a few kilometres from the Spanish border, Collioure hosts a small Catalan harbour in a cove where the Pyrénées waters run into the sea. On your way to Collioure, why not stop in the towns of Millas, Eus,...
special offers
Find out more about your campsite
In the deep south of France, and just a few kilometres from Spain, the campsite "Les Criques de Porteils" benefits from a very special climate - the sunniest in France. Located between Argelès-sur-Mer with its long beaches, tourist attractions and many bars and restaurants and Collioure with its narrow streets, picturesque harbour, painters and museums, you are a calm and relaxing setting on a campsite in the very heart of the rocky coast.
Located at the "gateway" to Collioure, the campsite "Les Criques de Porteils" benefits from a very special situation: on the one hand, overlooking the infinite sea and our private coves and, on the other hand, under the backdrop of the Roussillon mountains, the foothills of the Pyrénées. From the first day of the season to the last, our friendly team will be on hand to ensure that you derive the best enjoyment from all of the facilities: the mobile homes, the bengali tents, the terraced emplacements overlooking the sea, the heated pools, the boutique and restaurant, initiation in art and local guided tours.
Campsite : A l'extrême sud de la France, à quelques encablures de l'Espagne, le Camping Les Criques de Porteils bénéficie du climat le plus ensoleillé de France dans une zone privilégiée. Entre Argelès-sur-Mer et ses animations, et Collioure et ses rues piétonnes, son port, ses peintres et ses musées,vous êtes en plein coeur de la côte rocheuse et dans un écrin de quiétude.
Situé aux portes de Collioure, le camping Les Criques de Porteils est dans un monde à part : d'un côté nos criques privées et la mer à perte de vue, de l'autre la montagne du Roussillon avant la chaîne des Pyrénées. Camping calme. L'équipe mettra son savoir-faire et ses équipements à votre disposition : mobile-homes, bungalows toilés, emplacements en terrasse, piscines chauffées, boutique et restaurant, initiation artistique et randonnées avec guide, et cela du premier au dernier jour de la saison.
Les Criques de Porteils
(Sud-Est, Collioure)

Open from 25/03/2016: A luxury campsite in an exceptional setting
Les Criques de Porteils is open from 25 March 2016. Visit the Catalan coast and stay in an exceptional and unique setting perfect for fans of "glamping"!
Date : du 25/3/2016 au 29/10/2016
Accommodation at your campsite
Overall score du camping
7,9/10
322 comments
>
Retirer tous les critères
x

types of accommodation
meet your criteria:
Find out more about our accommodation
Imagine your dream Holiday ! On one side the sea as far as the eye can see and private coves, and on the other, the hills of Collioure and the Alberes mountains, such is the unique landscape of the Criques de Porteils. The location will make your holiday truly memorable. Under the Mediterranean sun, not far from the sea reserve, Camping les Criques de Porteils is the ideal place to profit from a stay in uniquely comfortable surroundings. Our membership of the chain of 'The Castels', (an association grouping exceptional domains and outstanding beauty spots), guarantees you a service of priviledged high quality.
Campsites :
Comfort, Quality and Open air ! Camping emplacements : between sea and mountain ! You can choose from a large range of emplacements for tents or caravans (with or without electricity) with sea or mountain views. Either on holiday or just passing through, camper vans have the privilege of a devoted emplacement with individual picnic table. Les Criques de Porteils comes up to your expectations by offering : * traditional pitches with or without electricity (5 Amperes) * concrete emplacements with a picnic table for our friends Camping * spacious emplacements for large settlements * special pitches for motorcyclists * pitches four our campers without vehicles * a choice of geographic sectors in the campsite on the sea side, the Ouille area, Creeks and Racou ; on the mountains side, the Alberes area, Madeloc and Valmy. As special prices allowing our campers to take advantage of adapted tariffs (according to the moment of the year) answering their demand and budget !
Rentals :
Modern and comfortable accomodation units. You can choose from a large range of modern and comfortable accomodations • Mobile Home PREMIUM (4 persons) • Mobile Home Sea view (2/4 persons) • Mobile Home Sea view PREMIUM (2 persons) • Mobile Home 2 Bedrooms (4/6 persons) • Mobile Home 2 Bedrooms and 2 Bathrooms (4/6 persons) You will find the following equipment in all our rental units : 1 bedroom with double bed 160 x 200 ; heating ; covered terrace, music system, cleaning products, water saving tap, energy saving light, key card, fridge, freezer, blankets, mosquito screens, microwave, gas hotplate, coffee machine, grill, crockery, garden furniture, 2 sun lounges, gas barbecue… • Bengali (4/6 pers.) All our rental units are equipped with a complete inventory corresponding to the number of persons Don't hesitate to contact us if you have any further questions about our accomodation units
Unusual : maisonnette cabane premium vue mer
Getaways and adventures

Hide detail

Adventure Course, Accrobranche Forest Adventure Course

Canoeing-Kayaking

Canyoning / Hydrospeed

Climbing

Hiking

Pony Trekking

Rafting

Hikes, walks and tourist routes

Find out more about our activities

Activities and relaxation for the whole family ! We offer a varied programme composed of activities and relaxing pastimes. We draw your attention to the fact that all these services are free : Artistic workshops : with our art teacher, initiation for children and adults in BODY PAINTING (painting on the body), LAND-ART (ecological and ephemeral art), face painting, work in charcoal and sculpture in paper-mâché. Sporting Activities : golf practice, table tennis, tennis, volley-ball, boules… And our classical music sessions on the edge of the Mediterranean, our childrens' playground, our duck pond and our family of rabbits, our free guided walks direct from the campsite, our heated pools guaranteeing swimming all season. We also propose a diving centre based on the campsite, for an extra charge : for beginners or intermediate, with a high level of multi lingual instruction and a compressor for refills. Classical music sessions : the whole season we offer classical music sessions on the edge of the Mediterranean. Live a magic moment in your most comfortable armchair !
Swimming pools and water parks

Hide detail

Outdoor Swimming Pool

Water ParkFor the pleasure of the youngest like the oldest our pool complex with slides will provide you lots of fun, when the whirlpool with jet streams is the perfect option to enjoy a relaxing & delightful moment in a green and shady area.

Water Slide2 slides
Reception, Staff and Activities

Hide detail

WelcomeTeam

Entertainment for children

Safe deposit

Mini ClubFor children aged between 6 & 12

Master swimmerLifeguards provide you safe swimming and offer the opportunity to take swimming lessons

Caretaker
Your itinerary
GPS coordinates :
latitude 42.535079956054687, longitude 3.068540096282959
How to reach us
How to get to the Camping Castels Les Criques de Porteils ? By car Acces from the A9 motorway is easy and avoids the centre of Perpignan. Take the exit 43 Le Boulou, follow Argelès-sur-Mer, then D 914 to Collioure. Leave at junction 13 signed « Collioure par la corniche ». After a few hundred metres turn right at the Hôtel du Golfe, direction Camping Les Criques de Porteils. By train To Perpignan then take a train to Collioure. The campsite is 2 km from the station. By plane To airport Perpignan-Rivesaltes then taxi. GPS : N42 :32.02 E03 :04.04
You will like :
Direct access to private creeks
Accommodations with sea view
Collioure, the Catalonian pearl
Rates & availability
Information and bookings
+33 (0)2 23 16 03 23
By telephone:

>

Call me back
By mail:
> Contact us
Directions & map
Collioure
Region Southeast - In the deep south of France, and just a few kilometres from Spain, in the very heart of the rocky coast, Collioure. RD 114 Corniche de Collioure 66701 ARGELES-SUR-MER
Tel. :+ 33 (0) 4 68 81 12 73
Fax :+ 33 (0) 4 68 95 85 76
Certified reviews