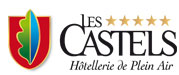 Our partners | Company | Newsletter
Information and bookings
By telephone:
Monday to Friday
9am to 6pm

By mail:
> Contact us
+33 (0)2 23 16 03 23
41 4-5-star campsites


in France at exceptional sites.
Last-minute summer holiday!
I want to leave...
We're thinking about You...
Les Castels, 41 high-standard 4 and 5 star outdoor sites in France, all located in exceptionally vast and luxurious areas! Enjoy the sunshine and spend a week-end or holidays with your family at Les Castels, where you will undoubtedly find the campsite that is just right for you: from the smaller, peaceful, green and charming campsite, to the larger campsite with entertainment for the entire family, to the camping-club offering a range of activities so that your clan can enjoy an unforgettable break!