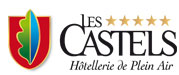 Camping
Val de Bonnal
Overall score
7,9/10
136 comments
ANIMATION
Host: M. Léonel de Moustier

Opening dates
04/05/2016 to 06/09/2016
All services from -
280 pitches total indeed 120 rental accomodations.
The Franche-Comté region offers major, must-see UNESCO World Heritage sites which you can discover by visiting the cities of Belfort, Gray, Dole and Besançon. From a culinary perspective, the Franche-Comté region will introduce you to a multitude of...
special offers
Find out more about your campsite
On the edge of the Doubs and the Haute Saone regions, the waters of the river Ognon kept this watermill turning for years. Today, they set the pace for the holidaymakers.
The Val de Bonnal is an immense aquatic and nautical area on 4 lakes near the the Ognon, offering all the pleasures of the sea in the countryside. They are a backdrop for a prestigious establishment, ideal to explore the south of the Vosges, Alsace and the Jura area.
Campsite : In an exceptionally beautiful estate of 150ha of green and peaceful nature devoted to your leisure. All the pleasures of the sea in the coutryside.
Pas d'actus
Accommodation at your campsite
Overall score du camping
7,9/10
136 comments
>
Retirer tous les critères
x

types of accommodation
meet your criteria:
Find out more about our accommodation
A varied range of rentals offering maximum comfort.
Campsites :
The camping of the Val de Bonnal reserves you its 280 places all delimited with electricity. Grand confort pitches with water, electricity 10A, drainage.6 "Premium" Pitch available.
Camping : Grand confort pitches with water, drainage and 10A electricity, between 150 and 180m²
Premium : 150m², 10A, water and drainage, garden's furniture (table, chairs+ 2 sun lounges,ombrela, barbecue), 1 frigde and 1 hour per day internet or wifi conncection.
Rentals :
You will find in our chalets and mobil homes the equipment necessary for the success of your stay.All have a wooded terrace and some terrasses are covered.
Chalets : Chalets 2 and 3 rooms with wooded terrace, covered or semi covered.
Canvas tents : Ecolodge Sahari 19m² (+10.5m² for the wooden and covered terrace)
An arranged Tent between camping and rentals, a lodge
2 bedrooms, 4 persons . Hot and cold water.
•1 bedroom with double bed 140x190
•1 bedroom with 2 simple beds 80x190
•1 living-room with table for 4 persons
•1 kitchenette with fridge, electric cooking surface
• shower, washbassin, mirror and wc
Our Ecolodge is equipped with a complete inventory for 4 pers. Blankets and pillows are included. No heater.
Bed linen, towels are not included.

Getaways and adventures

Hide detail

Adventure Course, Accrobranche Forest Adventure CourseBooking at the Reception, a zip-wire above the river.

Canoeing-KayakingEvery afternoon except on sunday in July and August. Departure with a bus from the camping and back to the camping with the canoe.

HikingVarious hikings are market out. Brochures are available in four different languages at the reception.

Pony TrekkingIn Villersexel

Hikes, walks and tourist routes
Find out more about our facilities
The aquatic complex and its outdoor swimming pool, its children 's pool and its slides will delight everyone. The children and the teenagers can enjoy on playgrounds, a football field, numerous ping-pong tables and with our entertainment team. And if you want to keep your body in good health, you are always welcome to our aquagym lessons or in our fitnessroom.
Reception, Staff and Activities

Hide detail

WelcomeTeam

Entertainment/ActivitiesTeam in july and augut with weekly programm. 6 days per week

Entertainment for childrenEntertainment team

Entertainment for teensEntertainment team.

CaretakerHigh Season

Mini Clubin high season

Video monitoring
Find out more about our services
The restaurant La Forge on the lake side, will welcome you from the end of the afternoon in its big room with fireplace. The snack bar will suggest you a service of fast plats which you can consume on the terrace or you can take away. You will find in the shop fresh bread every morning and the other indispensable products. Washer and dries linen work with tokens available on the reception and in bars in the evening.A phone boxe, Internet and WiFi on the terrace will allow you to be in touch whenever you want.
You will like :
Hiking trails around the lakes
Adventure course
Fishing
Rates & availability
Information and bookings
+33 (0)2 23 16 03 23
By telephone:

>

Call me back
By mail:
> Contact us
Directions & map
Franche-Comté
Region Northeast - In the est of France, on the road from North to South, between Besançon, Vesoul and Belfort, close from the A36 and right in the heart of Franche-Comté.Situated in the best greenery in France with an exceptional wealth of natural beauty. 1 chemin du moulin 25680 Bonnal
Tel. :+ 33 (0) 3 81 86 90 87
Fax :+ 33 (0) 3 81 86 03 92