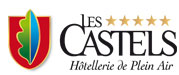 Overall score
8,1/10
1040 comments
ANIMATION
Host: M. Bruno Keryhuel

Opening dates
24/05/2017 to 03/09/2017
All services from -
325
Situated between land and sea, the Ty Nadan offers a wide variety of landscapes and activities. Lorient, city located nearby, is facing the Ocean and offers magnificent beaches. In the countryside, discover typical towns such as Pont-Aven, Quimperlé......
special offers
from 27/05 to 03/06/2017
The stated price is a 'starting at' price excluding handling fees, from 27/05 to 03/06/2017, for 4 people
360€00
504€00

>
Check availability
Mobile Home - 2 bedrooms - 1 bathroom - Classic - 24m²
Number of people included in the package :
4 people
The comfort for small family! Bathroom, separate toilet, kitchen, living room 1 bedroom with 1 bed 140 cm 1 bedroom with 3 single beds 80 cm. Cookers, fridge, pots and pans, dishes, 1 blanket...
from 27/05 to 03/06/2017
The stated price is a 'starting at' price excluding handling fees, from 27/05 to 03/06/2017, for 2 people
150€25
210€35

>
Check availability
Superior Pitch - electricity 10 A 130m²
Number of people included in the package :
2 people
In the heart of the countryside by the river Elle, pitch with electricity to welcome tents, caravans and motor homes. The superior pitch measures 130 m2 minimum. The abundant green setting of...
Find out more about your campsite
In the south of Brittany, between sandy beaches and legendary forests, The Castels Le Ty Nadan welcomes you in a warm and family atmosphere and will propose you a variety of outdoor activities. You will enjoy the spacious pitches spread out along the river, famous for the fishing
The southern region of Brittany, one of the most popular tourist in France, offers you more then 1000 attractions to be discovered from Carnac to Pont-Aven, through Quiberon and Groix. But would you really have time?!
Campsite : In the middle of the countrysite, and close to the sea
Le Ty Nadan
(Nord-Ouest, )

LA SEMAINE DU GOLFE
A maritime and international event, a cultural and popular festival, in the magical framework of the "Little Sea" (Mor Bihan in Britton) Over one thousand of traditional and classic boats, divided up into coherent and identifiable flotillas, sailing every day and stopping in various ports and anchor points. The result: a "bursting" maritime festival, bringing alive the whole of the Golfe of Morbihan. It is the particular geography and the physical characteristics of this "small sea" (its islands and islets, the narrows which separates and protect it from the high sea, the tides, the currents and counter-currents, the choppy waters), which determinates and rhythm the whole nautical programme.
Date : du 22/5/2017 au 28/5/2017
Kernault Manor
Enjoy a country walk in the grounds of the 15th century Manoir de Kernault (Kernault Manor), where cows, sheep and Breton draft horses graze. The Kernault estate and manor are a beautiful illustration of how Breton rural manor houses have developed through the centuries. Set in 30 acres of land, managed using eco-friendly methods, there's something to see all year round including Breton horses, Scottish cows and Ouessant sheep. Flora, fauna and nature lovers will love roaming around the manor woodlands including the garden wood, the 'wall-walk' wood and the 'winged-serpent' wood. There's also an orchard housing a collection of cider-apple varieties. Kernault Manor's summer programme features storytelling and literary shows and exhibitions all year round. The manor was built in the 15th century and has retained some aspects of gothic architecture including a 16th century house, a 17th century timber-framed granary and an 18th century state room.
Date : du 24/5/2017 au 4/9/2017
ANWB Top camping 2017
We are really proud to announce that our campsite has obtained 5 stars with the inspectors of Anwb. This price is only reserved to 22 french campsites.
Date : du 24/5/2017 au 5/9/2017
THE GUARDIAN 2017
The Ty Nadan has been selected as one of the 20 best family campsites in Europe for 2017
Date : du 24/5/2017 au 5/9/2017
ADAC 2017
We are pleased to inform you of our 3rd reward of the year : "SUPERPLATZ 2017" by ADAC
Date : du 24/5/2017 au 5/9/2017
Opening on the 24/05/17
Le Ty Nadan will open on the 24th of May 2017.
Date : du 24/5/2017 au 4/9/2017
Free nights
Take advantage of our low season offer, pay only 5 nights and stay for 7. This offer can't be accumulated with other reductions and is valid from the 24th of May until the 1st of July 2017
Date : du 24/5/2017 au 30/6/2017
La cité de la voile
An interactive story of ocean racing, the best skippers, and their boats – it's almost as good as being there! Come and follow in the footsteps of Eric Tabarly, the great French navigator and father of virtually all modern sailing, and experience the world of ocean racing. At the Cité de la Voile Eric Tabarly (Eric Tabarly Sailing World), during a three-hour visit, you can see and experience the world of sailing and the sea. Thanks to an interactive simulator, with sound and pictures, you can experience the thrill of sailing and navigation, design your own boat, and simulate being on board an ocean-going racing catamaran, with the world's finest skipper. Still not satisfied? Then climb aboard the large sailing ship moored in Lorient harbour and feel the excitement of the wind in the sails and the hull sliding through the water. And don't miss this year's special exhibition – "Skipper du ciel… L'aventure des voiliers volants" (Skippers in the sky – the flying sailors).
Date : du 24/5/2017 au 4/9/2017
The green key
Labeled since 2013. The Environment and Ty Nadan ? Environmental policy Since its creation, Ty Nadan is wary of respecting the environment. Situated in a « Natura 2000» zone, everything is put in place to preserve the balance of nature and its beauty. Environmental policy o Integrate accommodation in a wood environment o Maintain natural shade on the mobile homes Also, plants requesting little water are used as well as limiting the flower watering in the evening. ? Energy management o In the mobile homes, we replace the used light bulbs with low energy bulbs. o Water meter reading, and we have installed intermediary meters to detect any leakages. o Purchases of A class or A+ class devices ? Waste management o Recycling bags o Installment of compost boxes in partnership with CALICOT o Used battery collection at the site shop o Use of Eco labelled products o Purchase of durable products ? Environmental awareness o Organized walks and bike rides with a guide, to discover the local flora and wildlife. o Bike hire to limit car use o Use of buses for the canoe trips
Date : du 24/5/2017 au 4/9/2017
Pont-Aven
25 Kilometers away from the campsite, A charming village tucked away in the green estuary of the river Aven where the poetry of the landscape and the exceptional light attract many painters, artists, writers and poets. Worth visiting : "The painters' stroll", the famous biscuit factories of Pont-Aven.
Date : du 24/5/2017 au 4/9/2017
Les vieilles charrues
Enjoy the Festival LES VIEILLES CHARRUES in CARHAIX from the 13th until the 16th of July 2017.The artists for 2017 are : Manu Chao, Justice, Phoenix, Renaud, Die Andwoord, Arcade Fire, Jean-Michel Jarre, DJ Snake, Macklemore & Ryan Lewis, Matmatah.... Whilst the line-up at the Vieilles Charrues changes every year, for over 20 years its recipe for success has remained the same with a mix of eclecticism and conviviality, legends, and legends in the making. Five stages, 80 artists and 230,000 spectators...This festival really is a must! Situated in the heart of the Finistère countryside, the festival comes back each year with a line-up that's music to your ears. The playlist will appeal just as much to electro mad teenagers as pop fans and rocking granddads. The festival has the knack of creating a melting pot of musical styles and generations to suit all styles and generations.
Date : du 13/7/2017 au 16/7/2017
Festival de Cornouaille
Dedicated to the sheer richness and diversity of Breton culture, the Festival de Cornouaille is a cultural cornucopia, and even though it is now nearly ninety years old, this festival is still as youthful as ever. Concerts, all kinds of entertainment, competitions to determine the best bagadoù, or bagpipe players, bell-ringers and dancers...and the Great Sunday Parade where everyone dresses in traditional costume. That's the Festival de Cornouaille. For one week every summer, Quimper's historic town centre vibrates to the Celtic rhythm, much to the delight of some 250,000 visitors. And, since 1923, the festival has never been a disappointment. Back then, the gorgeous girls of Concarneau, Quimper and Pont-Aven paraded proudly in traditional Breton costumes
Date : du 18/7/2017 au 23/7/2017
Interceltic festival in Lorient
Each summer, around 700,000 people from all over the world invade the Celtic land of Lorient for the Festival Interceltique. From Galicia to Scotland, the cream of Celtic music can be found here, to be enjoyed in a really convivial atmosphere. Every year it's the same song and dance! Since 1971, this festival has really got it in the bag-ad, for every year it's bombard-ed with over 700,000 visitors coming to listen to the Celtic sounds of the bombards and the bagad. Just like the Pied Piper, this inter-Celtic parade mesmerises the crowd, assembled here to celebrate an inter-Celtic night at the Moustoir stadium or in the fishing port, to the sound of the Scottish and Spanish bagpipes that fill the air. Around 200 events and shows and 5000 performers on the bill...Tourists will love the atmosphere, and the Lorient locals are wholeheartedly involved in this festival which celebrates Celtic culture. Well into its forties, the Interceltique may be greying a little around the temples, but it is still young at heart.
Date : du 4/8/2017 au 13/8/2017
Festival des filets Bleus
Over a hundred years old, the Filets Bleus festival takes place every August, when it gives the town of Concarneau and its inhabitants an opportunity to go back to their roots. A typically Breton-flavoured costumed parade, with dancing and games that have no need whatsoever for artificial colouring. Some come out of curiosity, others to see all the pomp and pageantry of the parade. Some want to win a bout of Gouren, a type of Breton wrestling, while others hope to learn a few steps of a traditional Breton dance or try their hand at palets, which is 'boules' Breton-style. And of course they come to see the new Miss Filets Bleus, chosen among the wealth of pretty young girls from Concarneau. It's hard to imagine that this vibrant festival has been around for over a hundred years! Back then, the quays of Concarneau were covered in the blue sardine-fishing nets that have since given their name to this festival. In 1905, hard times hit the fishing industry and the inhabitants of Concarneau decided to pull together by creating the Filets Bleus. From that point on, this local event has never ceased to grow, becoming one of the most popular and unmissable festivals of traditional Breton culture. And it goes without saying that each and every visitor takes away a little piece of wonderful Breton culture
Date : du 15/8/2017 au 20/8/2017
Segway
NEW Thanks to the specially adapted all terrain Segway's®, discover the Breton coastline. Discover the creeks and drive near the beaches of LE POULDU and discover the hidden treasures of our region. (from 12 yrs and minimum 7.08 stones). Session of 45 minutes.

Natura 2000
Inscription de notre site en NATURA 2000 : là où la nature est restée sauvage

The Glenan Island
Tickets on sale at reception to visit the island. The Îles de Glénan are an archipelago of islands about 10 miles (16km) off the south coast of Finistère. Only accessible in summer, they are best known for their sailing and diving schools and for having a unique indigenous flower. Exotic paradise The archipelago is made up of nine main islands and many islets, in the middle of which is a lagoon renowned for the clarity of its water and the whiteness of its sands; in fact, the area has been described as 'the Breton Tahiti'. The main island The Glénans are very popular with daytrippers as there are daily ferries in season from Loctudy, Bénodet, Concarneau and Beg-Meil. The boats arrive at the main island, Saint Nicolas, where you'll find a couple of restaurants as well as the international diving school and France's smallest nature reserve, which was founded in 1974 to protect the Glénan Narcissus; the small white flower carpets the island in April. In the 19th century, one of the island's inhabitants was France's largest breeder of lobsters and langoustines.

Groix Island
Reduction for crossing for our guests. At 4.3 miles (7 km) long by 1.8 miles (3 km) wide, Île de Groix is Brittany's second largest island after Belle-Île and lies 8.7 miles (14km) off the coast of Lorient. Once a major centre for tuna fishing, Groix is now noted for its lovely (and unusual) beaches and its important concentration of minerals. The main drag Ferries from Lorient take around 45 minutes to arrive at Port Tudy, Groix's main town. The port was France's main centre for tuna fishing from 1870-1940 and you can find out about the industry's fascinating history at the Ecomusée. The museum traces the island's history from the Bronze Age covering all aspects of the inhabitants' lives from birth to death.

Pont Scorff Zoo
Reduction and tickets for sale at reception. Hearing a lion roar is not a common occurrence in Brittany, but thanks to the Pont-Scorff zoo, everyone can get the chance to hear one. More than 600 animals and 120 species from the four corners of the world can be found in the semi-open spaces of this tropical paradise at Pont-Scorff. Committed to both conservation and breeding programs for endangered species, the zoo is home to a variety of animal families, including hippopotamuses, giraffes, panthers, wolves and lemurs. You can even come face to face with the real stars of the zoo, a couple of white lions. Throughout the day, various animal shows bring together fun and acrobatics and set the pace of the visit. And when the parakeets, otters and marine birds get dressed up for the show, the place just lights up with the excitement on the children's faces.

Flore submarine, Submarine Discovery Centre
This year, visit the Flore (a submarine disarmed in 1989), and relive the great moments of 20th century history, seen through the eyes of the town of Lorient. New attraction: situated on the former submarine base at Lorient, the Flore will soon open its doors for the first time to the public. Bearing witness to 50 years of military history in Lorient, the submarine will house both cultural and educational exhibits. Before entering the actual submarine, there is an exhibition in one of the hangars of the former base, tracing the history of the submarine base, its men, and its boats. This interactive visit will help you relive the everyday life of the submariners and understand the workings of these rather mysterious submersibles. During the visit, you can learn about the strategic role that the port of Lorient played in 20th century history. The visit comes to an end in the alleyways of the Flore itself, where, armed with an audio guide you can listen to the numerous tales and anecdotes told by former submariners.

Accommodation at your campsite
Overall score du camping
8,1/10
1040 comments
>
Retirer tous les critères
x

types of accommodation
meet your criteria:
Display the 11 other accommodation choices
Find out more about our accommodation
With a large choice of activities for all ages, Campsite Le Ty Nadan has been appointed by ALAN ROGERS the best campsite for active holidays in 2010. The campsite is situated in the middle of a wild country side and has a large range of accommodations.
Campsites :
On Le Ty Nadan you'll find grass pitches in a nature area with a lot of trees. Pitches are between 100 and 160m² which gives you the possibility to put an extra tent. Between the pitches you'll find hedges to keep your privacy. Each pitch has its own electricity hook-up and you'll find water points close to the pitches. Some pitches dispose of their own water and waist connection.
Camping : Several types of camping pitches : classical with electricity,confort with water drainage, superior or premium and also with private sanitories
Premium : Mobil home premium : for 5 persons with terrace, beds made before arrival, towel and bath mat, television, safe, and free acces for internet for one hour per stay. Premium pitch : more than 130m2 with barbecue, fridge, sun lounges, garden furniture and parasol and one hour internet per stay.
Rentals :
If you want to stay on a campsite but not in your own tent, le Ty Nadan offers you a large choice of mobil homes, fully equipped tents, lodge tent with shower and toilet and safari tents and apartments and the kevells which are floating houses
Canvas tents : Ready erected tent 5 P (25 m²)
Equipped Safari tent 5 P (42 m²)
Lodge tent with shower and toilet 5 P (39m²)
Mobil homes : Several types from 4 persons till 8, with or without terrace
Chalets : 6 chalets
Cottages and flats : 2 flats : one 6 persons, one 8 persons and a holiday cottage for 7 persons
Unusual : THE KEVELLS : These floating houses are conceived for 4 peole, with separate bedrooms and toilet. A terrace of 15 m ² with a proper area for cooking, covers itself in case of rain and opens to appreciate the sunshine. To relax: sun-lounges are supplied as is a full set of garden furniture.
Don't be afraid of seasickness, the KEVELS are attached to the river banks, and to reach them you have a well stabilized pedestrian footbridge!

Find out more about our monthly prices
Rates from*
mai 2017


/day & /pers.

juin 2017


/day & /pers.

juillet 2017


/day & /pers.

août 2017


/day & /pers.

Camping
8,23€
7,43€
20,83€
17,08€
Mobile home
9,64€
7,98€
16,17€
17,50€
Chalet
18,21€
14,82€
28,25€
32,00€
Tent
14,57€
8,29€
14,60€
15,80€
Apartment
10,80€
8,75€
18,00€
19,63€
House
-
13,06€
23,14€
31,57€
Cabane
-
22,86€
34,25€
36,25€
> To see the detailed prices according to your holiday dates, click here.
*The "starting from" price per day and per person is calculated on the basis of the number of people per camping pitch or the maximum accommodation capacity. It does not include any other possible options, taxes or booking fees for holidays.
Getaways and adventures

Hide detail

Accrobranchefrom 5 years old on the site

Adventure Course, Accrobranche Forest Adventure Courseseveral trails with a ride on one of the longest zipwires in Brittany

Air Sports Club35 kilometers from the campsite

Canoeing-Kayakingon site, river trips organised with minibus service, kayak lessons for children above 7

Climbingindoor and outdoor wall climbing on site

Donkey ridingIn the village of Arzano, 2 kilometers from the campsite, you can vist the donkey's farm

HikingPedestrian, cycling and segway rides organised by the campsite

Horseback ridingon site

Massagesmassages on site

orienteering raceorganised during day or night

Pony TrekkingVarious activities : shetland pony ride and poney ranch

Sea kayakingorganised by the campsite

SurfGuidel Plages, Pointe de Trévignon

Swimming, sailing, fishingScuba diving initiation. Fishing permit on sale at the front desk. You can fish in the river Elle along the campsite

Visit the Park and Gardens, Visit the Park and GardensNumerous parks and gardens to visit (Kernault, Trévarez, Kerjean ....)

Water slideOne in the inside pool and 4 in the outside pool

Hikes, walks and tourist routes

Find out more about our activities

In the valley of the "Devils Rocks", the TY NADAN campsite offers you a large range of sports and leisure activities. On the site, you can do horse riding, quad biking, canoeing, Segway riding or try out our adventure park, archery or paintball tournaments. The activities are for all ages. If you are not tired yet, you can always have a swim in the indoor pool or play ping-pong or badminton in the multisports hall.
Swimming pools and water parks

Hide detail

Kids' Poolon site, paddling pool beside the indoor pool and outside one with a waterfall

Water Parkon site

Indoor Swimming Poolindoor pool, an extra long water slide, hydrotherapy installations including a spa and a wide bench with water massaging jets. Swimming pool open until 9.30pm

Outdoor Swimming PoolFrom the opening of the campsite, the main swimming pool allows one to plunge, also a the pool with waterslides and paddling pool. Open until 9.30 pm

Water Slideon site, one in the indoor pool and 5 outside

Changing roomsheated changing rooms
Find out more about our facilities
From the opening of the campsite, swimming complex with an indoor and an outdoor pool, with paddling pools to please the whole family. Children and teenagers will be able to join the new animation program organised by our team. Tennis and football playgrounds will be the meeting point for tournaments. You will also meet your friends in our indoor discotheque.
Reception, Staff and Activities

Hide detail

WelcomeTeamA team who can welcome you in French, English, Dutch or German.

Entertainment for childrenKid's club every day in high season with a special program: Visit of the zoo with the campsite shuttle FORT BOYARD games, balloons games Make your own boats and go for the race on the river Treasure hunts Insects hunts and fish trapping The clown Pippo and his magical balloons Crepe competition. Dressing up studio Mini disco. Talent show

Entertainment for teensA weekly animation program especially for teenagers : Water polo, paintball tournament Football, volleyball, baskets ball, tennis and snookers tournaments Campfire : speed dating and grill party Pool party : the inside pool turn into a real discotheque Karaoke especially for teenagers The talent show, discos ZUMBA Party

Mini ClubChildren's club with animations around nature and environment

KindergartenKid's club from 4 years old

Caretakera team of security guards during the high season

Safe depositavailable at front desk

Master swimmerA team of swimming teachers at your service for aquagym sessions

Baby sittingOn request at the front desk

Creative WorkshopsDuring the kid's club programm

Video monitoringThe grocery shop has video monitorings

Entertainment/ActivitiesA team is here to share with you happy moments. Concerts and shows are organised every evening

Pont Scorff ZooTickets on sale at reception

les GlénansTickets for the island on sale at reception

Isle of GroixReduction for clients of the campsite
Find out more about our services
From the opening of the campsite, everything is opened. The restaurants with its specialities of sea food and good wines. The bar with its terraces is opened until late. The teenagers will appreciate the special drinks in teh disco bar. On site and every day : fresh bread and milk for breakfast and fresh vegetables and fruits as well as meat and yogurts. You can have internet access through our computers or total wireless coverage through the campsite.
You will like :
Wide range of outdoor activities
Located between renowned beaches and forests
Large covered pool with slide
Rates & availability
Information and bookings
+33 (0)2 52 56 03 73
By telephone:

>

Call me back
By mail:
> Contact us
Directions & map
Lorient
Region Northwest - Between Concarneau and Lorient, 1 hour 30 from Roscoff and 2 hours from Saint Malo 29310 Locunole
Tel. :+ 33 (0) 2 98 71 75 47
Fax :+ 33 (0) 2 98 71 77 31