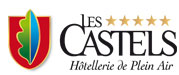 Camping
La Garangeoire
Overall score
8,9/10
773 comments
ANIMATION
Host: M. et Mme Éric Bourgon - Famille de Kerautem

Opening dates
2/05/2016 to 18/09/2016
All services from 5/05/2016 to 16/09/2016
360 pitches, including 181 equipped with chalet or mobile-home
Marshlands, hedged farmlands, sandy shores, small fishing villages and seaside resorts make up the charm of the Vendée region. The towns of Challans, Les Herbiers and Montaigu are situated near a medieval theme park, the Puy du Fou. Every four years,...
special offers
Find out more about your campsite
The Vendee - an area waiting to welcome all those wishing to discover its real qualities.
Away from the hubbub of the coast, the "Garangeoire" estate is the site of a Gallo-Roman stone temple. This spacious and comfortable campsite is set in the heart of 20 acres of parkland, ponds and trails.
Campsite : Located in a 200 hectare (500 acre) tree-filled park
Pas d'actus
Accommodation at your campsite
Overall score du camping
8,9/10
773 comments
>
Retirer tous les critères
x

types of accommodation
meet your criteria:
Find out more about our accommodation
Low season : 2 nights minimum Peak season : per week, from Saturday 4pm to Saturday 10am NO BOOKING FEE. Deposit of 25% of the price. A refundable breakage and cleaning cash deposit of 200€ is payable on arrival. Local taxe from 1st July to 31st August : 0.61€/night/person(+18years).
Campsites :
Ranging from 125 to 200 m2, pitches are marked out and individually named, with a choice of situation either in the shade of a group of oak-trees, or in the meadow, sheltered by a hedge or unshaded. Most camping pitches are located in the same area, apart from statics.
Camping : Pitches for tents
Pitches with electricity
Pitches with electricity, water and drainage
Castels Premium pitches

Sanitary blocks are all equipped with launderette, chemical disposal outlet, hair-dryers, paper and soap dispensers. Individual and family bathrooms, baby baths and specific bathrooms for disabled guests are available.
Premium : 4 Castels Premium pitches (200 to 260 m2), with electricity, water, drainage and equipment:1 table, 6 chairs, 2 sun-loungers, parasol, refrigerator, gas barbecue.
8 Premium pitches for tents, with electricity and equipment:1 table, 4 chairs, 2 armchairs tilting, parasol, refrigerator, gas barbecue.(Tent not supplied)
Rentals :
La Garangeoire provides on-site accommodation in spacious and well equipped chalets and mobile-homes.
Mobil homes : Mobile-homes with 2 or 3 bedrooms, 1 or 2 bathrooms.
"Life" mobile-home, with access ramp, specially designed for disabled persons.
Mobile-home Castels Premium, 3 bedrooms, 6 persons ; linen and towels supply ; beds already made on arrival.
Chalets : Chalet Duo, for 1 or 2 persons
Chalet Classique, 2 bedrooms
Chalet Country Lodge, 2 bedrooms, with dishwasher.
Chalet Vanille, 3 bedrooms
Chalet Castels Premium, 2 bedrooms, for 5 persons: linen, towels and bathmats are supplied and beds are already made on arrival.
Cottages and flats : Holiday homes (gîtes) for 7 and 11 persons; appartment for 4/5 persons.
Getaways and adventures

Hide detail

Accrobranche"Le Grand Défi", adventure park with tree climbing and zip-wires above lakes, located in Saint-Julien des Landes, 2 km from the campsite

HikingLa Garangeoire is set in 200 hectares of conservation area and is ideal for walking and hiking. Without even leaving the estate you can follow one of our marked out walks which are between 30 minutes and 2 hours long. Once a week we invite you to join us for a free narrated tour of approximately 2 hours which walks you around the hidden delights of the Estate. Trails are also available around the Jaunay lake, located 2 kilometers away from the campsite.

Horseback ridingOn-site horse-riding centre.

PaintballPaintball in Saint-Julien des Landes. Garangeoire group outings organized in july and August.

Pony TrekkingPoney trekking on-site, all season.

Hikes, walks and tourist routes

Find out more about our activities

La Garangeoire is an exceptional campsite in a protected environment of a 200 hectare (500 acre) tree-filled park with lakes reserved for you where you can enjoy a large number of activities: fishing, cycling, horse-riding, walking on hiking paths on site, heated swimming-pool with water slides,tennis courts, football and volleyball fields, boules, canoes, rawing and pedal boats, crazy golf, trampolines, pedal-karting, children's playgrounds... From La Garangeoire, you can also explore the unique Vendée "bocage" landscape and the nearest beaches, 15 minutes away by car.
Swimming pools and water parks

Hide detail

Outdoor Swimming PoolOutdoor heated pool; 1.10m to 1.60m depth

Kids' PoolHeated children pool with waterchute and mini-slide (40cm depth)

Water Slide3 water slides

Heated pool with roofReserved for lane-swimming in the morning. 1,10m depth

Water Park

Toddlers' poolwith integrated slide and water games (20cm depth)

Swimming-pool lift chairAquatic access swimming-pool lift chair, for use by guests with disabilities.

LAGOON700 m² LAGOON WITH 1000 m² SANDY BEACH

SaunaSPA and Sauna up to 4 persons (with extracharge)
Find out more about our facilities
On-site facilities & activities during the whole season : - Heated swimming pool with water slides - Natural bathing: Lagoon of 700m² with a sandy beach of 1000m² - Children and baby pools - 2 tennis courts (with extra charge in July/August) - Horse-riding center - Football field and multisports ground - Children's playground including toddler-only, safe play Equipment - Table tennis - covered - Crazy-golf - Bicycle,
Reception, Staff and Activities

Hide detail

WelcomeTeamOur team of receptionists await you to help make your holiday a real success. Would you like to know about the surrounding area? Do you need a doctor, a vet or a garage? Our staff are ready and waiting to help solve any queries you may have.

Entertainment/ActivitiesTournaments and all kind of sports and leisure activities, everyday in high season. Evening entertainment in July and August: discos, concerts, night swimming, shows (illusionists, dance companies, clown, vendean folklore), quizzes, circus... Weekly organized activities in low season: - VTT rides - Boules tournaments - Fishing competition - Archery lessons (with extra charge) - Guided Garangeoire discovery walk - Wine-tasting in the Château (with extra-charge) - Occasional evening entertainment

Entertainment for childrenIn July and August four multi language speaking leaders are here to welcome 4 to 12 year olds at La Garangeoire Children's Club. This highly acclaimed service is free from 10am to midday, 6 days a week in high season and is also open in early June until the 8th September. On the programme we have outside games and activities plus creative workshops. Team managed activities are also organised regularly in the afternoon. These include professional puppet making workshops, our casting and preparation for "La Garangeoires got talent!" where we put on a final show for our parents at the end of the week. We also have mini golf and ping pong tournaments plus, in the case of less better weather, we have film shows. Our summer programme includes evenings especially organised for children. These include a Garden Funfair every Wednesday evening, Mini Disco's, Puppet Shows and fun and games with Camembert the Clown...

Caretaker

Safe depositIndividual safes for hire at reception. You may acces your safe when reception is open. Price per day and per week.

Baby sitting

Garderie"Garderie" is a free evening care (3 to 10 years old) for parents wishing to have a private dinner in the Garangeoire restaurant. Quiet games, DVD playing, colourings and reading are proposed. Open 4 evenings a week in high season.
Find out more about our services
All services are open from May 5 to September 16, 2016.
You will like :
Riding stables
Wide range of sports activities
Forest and lakes
Rates & availability
Information and bookings
+33 (0)2 23 16 03 23
By telephone:

>

Call me back
By mail:
> Contact us
Directions & map
Les Sables d'Olonne
Region Northwest - At the heart of the Vendée Bocage, 12 km from sandy beaches. 85150 Saint Julien des Landes
Tel. :+ 33 (0) 2 51 46 65 39
Fax :+ 33 (0) 2 51 46 69 85
www.camping-la-garangeoire.com