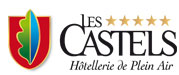 Tree-houses, caravans, huts
Tree-houses, caravans, huts - have an unusual holiday at Les Castels!
Does the idea of sleeping in a hut, a caravan or even a tree-house tempt you?

For a weekend or for a week, with your lover or with your family, perched in the air or with your feet on the ground, at many Castels you will find the perfect option for you!
Make one of your childhood dreams come true: sleep in the treetops, on the water or in a caravan! Book now to spend an original moment in one of our unique accommodations. Share this experience with your family or friends!