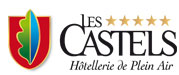 Innovative vision
Camping at a château…an innovative vision
The origins of Les Castels

At the time considered to be a crazy idea, camping at a château has proven to be a resolutely visionary idea and has withstood the test of time. It all began in 1959 when Georges Pilliet founded the "Les Castels" association with the goal of encouraging château owners to open up their properties to campers in order to promote, maintain, preserve and share an endangered heritage. He thus created the first outdoor hotel chain whose main values were the setting, courtesy, comfort and tranquillity.
Les Castels today

If being imitated is proof of a good idea, committing to continuity is the demonstration that the values that embody the chain are unique and are especially sought after today. For over 50 years, while preserving the values it is so attached to, the chain has evolved by combining tradition and modernity with the ongoing concern for meeting the needs of today's vacationers.

In 2015, the Castels family includes 39 independent and dedicated owners who have opened up their family estates to outdoor tourism.
il était une fois les Castels...
1959:

Georges Pilliet founded the 'Castels et Camping Caravaning' association, and 24 owners of French castles and chateaux became part of Les Castels adventure.

1961:

The first Les Castels AGM was held on a narrow-boat belonging to the Touring Club de France organisation – demonstrating the close connection between the 2 associations.

1964:

The chain became 'independent' and published its own 'Castels et Camping Caravaning' brochure, with a logo incorporating symbols for a tower, a tent, and a caravan.

1968:

The chain tried to move into Europe, by setting up the Fédération européenne des Castels et camping caravanning organisation. The attempted Europeanisation of the company came to an end 3 years later.
Early '80s:

Max de Lussac, owner of the Parc de Fierbois site and deputy-president of the company, began to further increase the chain's development.

'80s:

A new era in the camping and caravanning world arrived, as more and more different types of accommodation became available.

1983:

Yvonnick de La Chesnais, owner of the Domaine des Ormes site, was elected president following the death of Georges Pilliet. He introduced a dynamic modernisation policy and began promoting the chain, particularly at European exhibitions.

'90s:

Les Castels began to welcome owners of properties located in particularly unusual or beautiful sites, even if they did not include a castle or chateau. The campsites began to build water parks and water fun pools to meet changing customer expectations.

1997:

The chain began to emphasise its 'prestige' dimension with a new top quality brochure and a new slogan, 'La France autrement' – 'a new concept in French camping holidays'.
2002:

Léonel de Moustier, owner of the Val de Bonnal site, took over from Yvonnick de La Chesnais as president of the association.

2002:

The Les Castels chain was the first camping and caravanning group to sign the Camping Qualité charter introduced by the Fédération Française du Camping Caravanning (French Camping and Caravanning Federation) and the Fédération Nationale d'Hôtellerie de Plein Air (French National Outdoor Accommodation Federation), with the support of the French Secretary of State for Tourism.

2005:

A new 'accommodation' symbol was added to the existing logo, which now also referred to the company's heritage 'Depuis 1959, en France… vos vacances autrement' – 'offering a new concept in French camping holidays since 1959'.

2008:

The chain launched an ambitious advertising campaign with its website, www.les-castels.com, introducing a new graphic identity and positioning itself as a strong brand with strong inherited values, and the signature '4 étoiles et une âme', meaning '4 stars and a soul'.

2009:

The Les Castels chain celebrated its 50th birthday, with the launch of a Premium offering and a loyalty programme.

2010:

The French outdoor accommodation sector introduced a 5th star to its classification system. The chain's slogan changed to 'Des étoiles et une âme', or 'Stars with a soul'.

2011:

Régis de Lussac, owner of the Parc de Fierbois site, was elected president of Les Castels.

2014:

The Les Castels chain celebrated its 55th birthday. 30 of its 39 campsites have been awarded 5 stars.