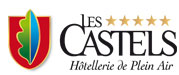 Entertaining…in a whole new way.
Appreciate our hospitality
When staying with us, you're not in an ordinary place – you're invited by an owner. Veritable "guest campgrounds," the Les Castels sites have preserved the art of entertaining, as each owner is intent on offering you a familial and warm reception. Each Castel's specific ambiance gives it its soul, which will envelop you throughout your stay. This soul is also based on mutual respect between the campers and the properties' staff members.
It's a shared spirit that makes it possible to showcase beauty and serenity at our campgrounds..
Enjoy our art de vivre
Respectful of our heritage and passionate about our environment, our philosophy is not to impose a model but rather to preserve our authenticity. Our art de vivre means combining these principles while striving for harmony, elegance and simplicity.

Sharing our heritage is not only a pleasure, but also a responsibility, as is the duty of passing it on to future generations.

When you spend your holidays at Les Castels, you're participating in our approach. You're helping us preserve a heritage that belongs to our collective history.
Take advantage of our surroundings
The Castels campsites are located amidst magnificent landscapes. They're also the expression of a preserved heritage; historic properties where hundred-year old trees thrive, where water runs peacefully, where the word 'picturesque' takes on all its meaning, human activity blends in perfectly with nature...and where you'll experience one-of-a-kind holidays.

When you stay at the Castels campgrounds, you often have "front row seats" to veritable "postcards," breathtaking panoramas and idyllic backdrops that make you daydream.