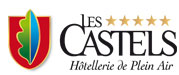 Go on holiday peaceful!
La Clef Verte
The Green Key is an enviromental seal of approval awarded since 1998 to tourist accommodation, run by la Fondation pour l'Education à l'Environnement [Foundation for Environmental Education]. It recognizes campsites, hotels and holiday rental cottages for their efforts to protect the environment, in the following areas: general environmental management, waste management, water management, energy management, environmental education and land development.

Some examples of action taken by our campsites:

Installation of heat pumps for heating the swimming pools
Installation of thermal solar panels to heat water for the bathroom blocks
Setting up light sensors for exterior lighting
Facilities for recycling, composting and compacting waste
Use of electric vehicles
Reusable carrier bags in the shops, instead of plastic bags...
33 Castels establishments have already been awarded the Clef verte : Château de Lez Eaux, Le Brévedent, Les Ormes, Domaine & Resort, Le Ty Nadan, Parc de Fierbois, Château de Martragny, Château de Chanteloup, La Grande Métairie, Château de Galinée, L'Anse du Brick, Domaine de l'Orangerie de Lanniron, Domaine de la Brèche, La Forge de Sainte Marie, La Bien-Assise, Domaine de Drancourt, Château de Poinsouze, Les Gorges du Chambon, Domaine de la Paille Basse, Le Moulin du Roch, Le Petit Trianon de St Ustre, Château de Leychoisier, Domaine du Verdon, Château de Boisson, Le Château de Rochetaillée, Les Criques de Porteils, Le Caussanel, Saint Avit Loisirs, Domaine de Sévenier, Château de l'Epervière, Le Manoir de Ker An Poul, Domaine de la Bergerie, Camp de Florence, Le Village Western
The European Ecolabel
In addition to being awarded "The Green Key" seal of approval, some Castels properties have also received the European Ecolabel.

Ecolabel has very high standards, and only around 70 campsites in France have met the requirements.

These sites are committed to limiting water and energy use, to reducing the amount of waste they generate, to favouring renewable resources and to making their guests aware of environmental preservation. The results of these efforts show significant energy savings, with energy use decreasing by around 30% over three years.
This proves that upscale services and sustainable development are not incompatible. In fact, it's quite the opposite!

Other Castels properties are also committed to working towards the Ecolabel standards, and will soon join the elite group of Ecolabel campsites.
Currently, 2 Castels properties have been certified by the European Ecolabel : La Garangeoire, Château de Poinsouze
Other Castels establishments are working toward this and their names will soon be added to the list as well!