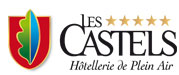 Introduce your near and dear to Castel hospitality: give someone a gift voucher!
Why not treat someone special to a Castels holiday? What could be better than a Castel Gift Voucher as a Mother's Day, Father's Day or birthday gift.
The lucky recipient will be able to use the voucher in payment for any Castels holiday in France.
Please fill in the contact form, we will come back to you as soon as we can to finalise your order.
Possible payment by cheque (for France only), Credit card or bank transfer
Conditions of use for Castel gift voucher :

Let's offer a Castel Gift Voucher, used in payment for any Castels holiday in France.
€50 vouchers are available, (minimum purchase: €50).
The holder must send the voucher to the camp site when booking to validate the stay. When the voucher has been received, the holder will be sent a confirmation by the relevant camp site.
The gift voucher can be used to pay for a stay either a camping pitch or rental accommodation. The voucher cannot be used to pay for activities, services or the restaurant.
The Castel gift voucher is valid for one year from the date of purchase and must be used in full to pay for part or all of your stay.
Several cheques can be used together at one time.
The gift voucher is not exchangeable or refundable.
Please note that it is not currently possible to book your holiday on our website using gift vouchers.