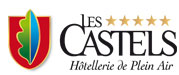 Les Castels is committed to the environment
Take action to protect the environment with Les Castels!
In line with its commitment to an environmental approach and its values of hospitality and generosity, the Castels Chain is committed to the Planète Urgence Environment and Development programme.
Taking action together for our planet
€1 = 1 tree planted
Thank you! 22,452 trees has been planted thanks to you!
Participating in our first solidarity week or answering to the customer satisfaction survey in our campsites, you have helped to plant 22,452 trees in Madagascar in association with Planète Urgence.
Find out more


Check back soon for suggestions of new actions we can take together to protect our environment.

Planète Urgence provides assistance and financial support for reforestation projects.
By focusing on trees, the programme contributes to the protection, restoration, and appreciation of the environment while providing local populations with a meaningful and sustainable path to economic development. With a gift of €1, Planète Urgence will plant a tree in Madagascar in the name of the Castels chain, as part of the €1 = 1 tree planted initiative. Check back soon for news about the projects your donations have supported!
For more information, visit: &nbsp www.planete-urgence.org