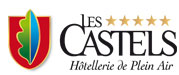 Camping
Château de Martragny
Overall score
8,2/10
101 comments
ANIMATION
Host: Famille de Chassey

Opening dates
23/05/2016 to 26/08/2016
All services from 23/05/2016
160 camping pitches, 4 lodge tents, 5 bed&breakfast in the château
D-Day beaches are located in Normandy, a few kilometres from Caen. This is where French History was made on 6 June 1944. Relive these major historical moments by visiting Omaha Beach, Ouistreham, Arromanches and Pointe du Hoc.
special offers
Find out more about your campsite
The memory of D-Day in 1944 remains vivid on this Normandy coast. And yet today, there is nothing more peaceful than the Calvados countryside.
An impressive driveway leads to this 18th century manor house with a typical English garden which gives this campsite great style. The old stone out-buildings house the different site facilities.
Campsite : On arrival, you will be enchanted by its irresistable charm: a long, straight avenue along centuries-old trees leads you to the castel.
Château de Martragny
(Nord-Ouest, Martragny)

Hike routes from Martragny
Get some new ideas for hike routes in the Activities, Outings and Adventures section!
Date : du 23/5/2016 au 28/8/2016
Accommodation at your campsite
Overall score du camping
8,2/10
101 comments
>
Retirer tous les critères
x

types of accommodation
meet your criteria:
Find out more about our accommodation
Château de Martragny offers several different types of accommodation including, camping pitches for tents, caravans or motorhomes, 4 canvas lodges, two gites and bed and breakfast rooms.
Campsites :
Château de Martragny offers 160 spacious pitches in beautiful surroundings. The pitches can be found throughout the well maintained grounds and orchards.
Camping : 160 pitches (+/- 100 m2) with electricity
Rentals :
Château de Martragny offer several different types of accomodation : five bed and breakfast and three gites ( two in the castle) and four lodge tents.
Cottages and flats : 5 bed & breakfast, 2 gites in the château, 1 gîte next to the campsite
Canvas tents : 4 lodge tents to rent
Getaways and adventures

Hide detail

Cards with circuits bike at the campsite reception

AccrobrancheTree climbing park each summer near Bayeux. For young and old

Adventure Course, Accrobranche Forest Adventure CourseTree climbing park each summer near Bayeux. For young and old

Air sports

Air sports

Bungee jumping

Canoeing-KayakingWatersports in Caen, Courseulles-sur-Mer & Clécy ( Norman Switzerland)

Hiking

Horseback riding

Pony Trekking

Sea kayakingAsnelles

Swimming, sailing, fishingMany carp fishing in the castle pond

Visit the Park and Gardens, Visit the Park and Gardens

Hikes, walks and tourist routes

Find out more about our activities

You can practice all kinds of activities: cycling, fishing in the water mirror behind the castle, a dip in the pool, play tennis,for the children, make a run with the free carts...or do nothing in the shade of large trees. Adults will be invited to taste locally produced calvados and cider on the terrace of our bar. They can also organize a visit to a cider or an oyster farmer.
You will like :
Bed and breakfast rooms in the castle
Spacious, wooded pitches
Rates & availability
Information and bookings
+33 (0)2 23 16 03 23
By telephone:

>

Call me back
By mail:
> Contact us
Directions & map
Plages du débarquement
Region Northwest - 7 km from Bayeux and its famous "tapestry"! In the heart of Normandy and D-Day beaches. 14740 Martragny
Tel. :+ 33 (0) 2 31 80 21 40
Fax :+ 33 (0) 2 31 08 14 91