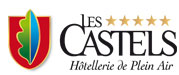 Overall score
8/10
83 comments
ANIMATION
Host: François et Marie de Massol de Rebetz

Opening dates
01/01/2016 to 31/12/2016
All services from -
199 pitches
The centre point of the southern Finistère region, Quimper is a city packed with History. Discover the charm of this medieval city by visiting the Saint-Corentin cathedral, the old streets and houses of the 16th and 17th centuries.
special offers
from 29/10 to 05/11/2016
The stated price is a 'starting at' price excluding handling fees, from 29/10 to 05/11/2016, for 6 people
450€00
525€00

>
Check availability
Mobil home - 2 bedrooms - 1 bathroom - Classique
Number of people included in the package :
6 people
29 m² + wooden terrace. This cottage is ideal for families: there are two bedrooms: one with a double bed (140 cm x 190 cm) and one with two single beds (80cm x 190 cm). There is also a sofa...
from 05/11 to 12/11/2016
The stated price is a 'starting at' price excluding handling fees, from 05/11 to 12/11/2016, for 6 people
480€00
560€00

>
Check availability
Mobil home Confort - 2 bedrooms - 1 bathroom - Privilège
Number of people included in the package :
6 people
This cottage is ideal for families : there are two bedrooms: on with a double bed (140 cm x 190 cm ) and one with two single beds (80 cm x 190 cm). TV on demand. There is also a sofa bed in...
Find out more about your campsite
Here, the tide flows into the river Odet at Quimper, bringing fresh sea air into the capital of the so-called "Cornwall" region an area where many Breton traditions have been preserved.
Lanniron is both an historical site with a rare charm and a 120 acres of preserved nature a step away from Quimper. A such site well deserves its top-class rating campsite ! New : a 9 holes golf and a 600 m² swimming pool facing our recent pub.
Campsite : On the banks of the Odet river, around magnifient Orangerie built at the end of the 17th century to house Orange and lemon trees, the castle has been restored in the 19th century in the Palladian style with gardens and terrasses on the Odet river. The Orangerie house today classical music concerts, conferences, entertainment. The old stable, the Bar and games room, the old castle farm the restaurant, traditionnal cooking in a charming and authentic atmosphere , houses to rent in the castle park for our hosts. 120 acres of nature at 2,5 km of Quimper'cathedral. 9 holes golf on site.
Domaine de l'Orangerie de Lanniron
(Nord-Ouest, L'Orangerie de Lanniron)

Open all year round: Visit Quimper and its surroundings
Le Domaine de l'Orangerie de Lanniron is open all year round! Visit Quimper and its surroundings at any time of the year.
Date : du 26/3/2016 au 2/11/2016
Accommodation at your campsite
Overall score du camping
8/10
83 comments
>
Retirer tous les critères
x

types of accommodation
meet your criteria:
Display the 5 other accommodation choices
Find out more about our accommodation
mobile homes with wooden terrace 2 and 3 bedrooms to rent offer you all the confort for an excellent holiday in the nature at l'Orangerie de Lanniron. Houses, gîtes villas up to 11 persons in the castle park, appartments and studios in the castle and at the old restaured farm. You will enjoy the facilities of the site, restaurant, bar, shop, take away, waterpark, golf practice and putting green, Tennis, midget-golf, jeux de boules, play grounds for children, play room, entertainment,kids club ....
Campsites :
15 acres of campsite in a natural park of 94 acres, the Castel l'Orangerie de lanniron welcome you with your caravan, tent, camping-car or in a mobile home with a wooden terrace on large emplacements with shrub and flowers, houses in the castle park, cottage, studios and rooms at the big farm near the restaurant, the golf and the waterpark for unforgatable holiday in Britany France.
Rentals :
A couple, with family or friends for a weekend or a week, our cottages and charming houses are fully furnished ideal accommodation for a relaxing stay on the banks of the river.
Cottages and flats : gites de charme
Find out more about our monthly prices
Rates from*
octobre 2016


/day & /pers.

novembre 2016


/day & /pers.

décembre 2016


/day & /pers.

Camping
8,05€
-
-
Mobile home
10,60€
10,00€
10,00€
Apartment
22,62€
21,43€
21,43€
House
24,52€
10,48€
10,48€
> To see the detailed prices according to your holiday dates, click here.
*The "starting from" price per day and per person is calculated on the basis of the number of people per camping pitch or the maximum accommodation capacity. It does not include any other possible options, taxes or booking fees for holidays.
Getaways and adventures

Hide detail

AccrobrancheBonobo parc at 500 meters from campsite it offers various courses for all ages.

Adventure Course, Accrobranche Forest Adventure CourseBonobo parc at 1.5 km from the campsite. parc in which you can climb trees: 3 courses for the all family (from 4 years)Tarzan jump, Tyrolienne, Monkey bridge...1h30 of pleasure to share (doon't forget to bring your camera)

Canoeing-KayakingCanoe-kayak club of Quimper at 2.5kms from the campsite (starting from the campsite). Initiation, training courses, kayaks rent, discovery of the river Odet " the most beautiful river of France". Reference club for the canoe and kayak of Quimper. Very beautiful sailings on the river Odet and sea kayaks.

Hiking35 hectares park with alleys and paths which are driving directly to the Quimper's city center and passing alongside the river Odet (3 kms)

Horseback riding

Pony TrekkingPony trekking on site for children from 3 years old.

Visit the Park and Gardens, Visit the Park and Gardensà saisir, à saisir

Water slideTAke advantage of 3 Water slides in our aquapark (600 m² of heated water), open from 15th May to 15th of September.

Hikes, walks and tourist routes

Find out more about our activities

Sportive activities: canoeing, kayaking,sailing, windsurfing, pony, fishing, boating, tennis, swimming-pool, mini-golf, 9 holes golf, practice, putting green, Aqua parc complex and wellness of more than 600 m2 with balneo, swimming, slides, waterfalls, fountains, geysers, paddling pool with it's own slide, geyser...walk in the 38 acres of the parc, walk in Quimper and on the river Odet. Guided visit of the castle's gardens with historical and botanical commentaries. Patrimony, leisures and activities", evening activities, crepe parties, tastings... and children club in juily and august. Nearby: acro-branche, bowling, indoor tennis,indoor Aquaparc with slides and waves.
Swimming pools and water parks

Hide detail

Kids' PoolDimension of the paddling pool 5x3m, depth 30 cm, heated at 23°C

Water ParkCome and discover the magnificient water park located at the farm at the entrance near the restaurant and the reception not far from the campsite emplacements but far enough to keep the campsite quite and peacefull, Aquaparc with jacuzzis more than 500 m² of water, fontains, bubble beds, water slides hidden in rocks of the region, Finistère Brittany, paddling pool with its own waterslide, well-being and fun for all the family. The swimming pool near the Orangerie will be kept to swim in a very quite atmosphere.

Water SlideThe pool area has 3 slides (one tube, 2 multi slip), hidden in a scenery rocks colors coast of Finistère in Brittany, a paddling pool with a small slide for children. The joy of the large and small.

Outdoor Swimming PoolThe heated pool near the Orangerie and paddling are always available for those who prefer quiet!
Find out more about our facilities
Two games areas will be available to the children at the north and the south of the estate. Bikes for children and adults, karts are available for rent. you can fish on the banks of the river odet or in the Neptune pool, enjoying this way of the tranquility of the park. Sportive equipments on the campsite:minigolf, 9 holes golf,driving range and putting green, tennis court,volley football and badminton ground, ping-pong tables ans petanque.The children club will welcome the children from 4 years for every kind of games ans creative activities: kite work shop,pottery, drawing, theatre... The adolescents and adults will be invited to participate to the sportive tournaments (tennis, volley, badminton...) and to the game parties at the camping bar, kayaking, canoeing, sailing, discovering the golf on the campsite, initiation and improvement with Bertrand (lessons or training) Our new aqua-ludique and wellness parc, aquapar of more than 600m² of heated water with balneo, massage seat, slide hiden in the rocs with a stump in which you can discover the lanniron's owl, mushrooms...
Reception, Staff and Activities

Hide detail

WelcomeTeamFrom mi-may to mi-september. Open every days from 8.30am to 8pm (low season) and from 8am to 9pm (high season) Spoken languages: French, English, German, Spanish, Dutch, Italian -

Entertainment/ActivitiesFor the success of your holiday at the Orangerie de Lanniron. On the activities that are offered, you will find sports activities day (tournaments, races, etc..) and evening entertainment, bingo, lectures on the region or karaoke. Events around culture and gastronomy are also implemented on the site. On Monday evening the campers are invited to a guided tour of the gardens of Lanniron then our meeting "heritage and leisure activities" during which we suggest activities and visits campsite or in its surroundings. The meeting concluded with a welcome drink. Musical evenings are held at the Orangerie de Lanniron including classical music concerts in the large Orangerie during the 17th week of musical Quimper.

Entertainment for childrenChildren club: July and august from 4 years old children

Entertainment for teensIn july and August games and tournaments.

Mini ClubThe Kids club is open in July and August. Kids Club with our animation team takes care of children from 4 to 12 years and offers from Monday to Saturday a wide range of activities ranging from outdoor games (sports, treasure hunts, etc..) To creative activities (workshop kites, theater, drawing, etc.).. Animations are also provided inside on rainy days.

Baby sitting

CaretakerThe caretaker leaves on the campsite in order to guarantee you the better safety.

Safe depositrenting of safe deposits at the reception
Find out more about our services
The restaurant "Au Potager de Lanniron" will seduce you with it's varied and rich menu, it's local specialties, it's fishes and shellfishes. The grocery will propose you fresh bread, home made Viennese pastry, local products and take away food or to consum on the terrace. The bar will welcome you in a convivial athmosphere playing snooker, baby-foot, board and electronic games and watching at the widescreen television.
You will like :
Choice of accommodation
9-hole golf course
The unspoilt nature of the Estate
Rates & availability
Information and bookings
+33 (0)2 23 16 03 23
By telephone:

>

Call me back
By mail:
> Contact us
Directions & map
Quimper
Region Northwest - On the edge of the Odet river, 2 km from the cathedral, south of Quimper, Finistère, Bretagne, full of beautiful sites, monuments, traditions gastronomy and folklore. Allée de Lanniron 29 000 Quimper
Tel. :+ 33 (0) 2 98 90 62 02

Certified reviews