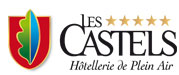 Overall score
8,5/10
519 comments
ANIMATION
Host: Mme Brigitte Saint-Cast

Opening dates
02/05/2016 to 10/09/2016
All services from -
235
Saumur is renowned for its prestigious Cadre Noir, a national horse riding school for professionals. During your tour of Saumur, visit the ornamental Hôtel de Ville and the troglodyte castle of Brézé. The Saumur region is also renowned for its mushroom...
special offers
Find out more about your campsite
"L'etang de la Brèche" was created by a breach in the digue (levée) separating the Loire from the valley
"L'Etang de la Brèche" is situated in the most attractive part of the Val de Loire, not far from Saumur, where the wine sparkles and the traditional good-life begins. The extremely large pitches, the waterslide and heated swimming pools are without doubt of the highest standard.
Campsite : Le camping s'étend sur un domaine de 24 hectares de plaines et de sous-bois, autour d'un ancien manoir du XVIIème siècle.
Pas d'actus
Accommodation at your campsite
Overall score du camping
8,5/10
519 comments
>
Retirer tous les critères
x

types of accommodation
meet your criteria:
Find out more about our accommodation
Campsites : The emplacements are between 130 and 170 m². They are all delimitated by plants and trees and shady, for most of them, either in the morning or in the afternoon. They all have a 16 Amp electric connection Dogs are accepted under some conditions.
Rentals : All our mobile homes are very pleasant and quite new with a decking. They are fully equiped with a kitchen, one or two bathrooms, independent WC, one bedroom with a double bed and one or two bedrooms with 2 single beds, blankets, pillows and electric heating in every room, garden furniture and barbecue. Bed linen and towels can be provided on demand with an extra charge.

Getaways and adventures

Hide detail

Canoeing-KayakingIn Saumur (6kms)

Pony TrekkingPoney walks and poney lessons

Water slideWaterslide and waterchutes

Hikes, walks and tourist routes
Swimming pools and water parks

Hide detail

Kids' PoolPaddling pool

Water Park

Indoor Swimming PoolHeated indoor swimming pool

Outdoor Swimming PoolHeated outdoor swimming pool

Water SlideWaterslide and waterchutes
Reception, Staff and Activities

Hide detail

Entertainment/ActivitiesChildren's club, sport animations, evening entertainments lique quizz, bands...

Entertainment for childrenChildren's club in July and August

Safe depositSafes at reception

WelcomeTeam

Caretaker
You will like :
Bar with its old stonework
Pony rides
Rates & availability
Information and bookings
+33 (0)2 23 16 03 23
By telephone:

>

Call me back
By mail:
> Contact us
Directions & map
Saumur
Region Northwest - 6 km from Saumur, home to the famous Cadre Noir horseback riding school. 49730 Varennes sur Loire
Tel. :+ 33 (0) 2 41 51 22 92
Fax :+ 33 (0) 2 41 51 27 24
Network member: