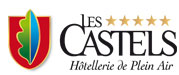 Glamping
Glamping is chic!
Experience glamping with Les Castels!
Looking for a stay truly close to nature in an authentic setting, but without giving up comfort? Try fully equipped glamping, caravans, cabins, thatched huts… Les Castels offers you a luxury version of camping, for a stay that's 100% glamour!
Below is a list of glamping accommodation available according to the dates of your stay:
We're thinking about You...
Les Castels, 36 high-standard 4 and 5 star outdoor sites in France, all located in exceptionally vast and luxurious areas! Enjoy the sunshine and spend a week-end or holidays with your family at Les Castels, where you will undoubtedly find the campsite that is just right for you: from the smaller, peaceful, green and charming campsite, to the larger campsite with entertainment for the entire family, to the camping-club offering a range of activities so that your clan can enjoy an unforgettable break!