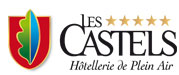 Wellness - Spa
Wellness within reach
Do you dream of a private spa on your terrace?
It's possible at Les Castels! Enjoy top of the range accommodation with total comfort for your holiday geared towards wellness. All the reason you need to relax in complete peace and quiet!
Below is a list of "Wellness - Spa" accommodation available according to the dates of your stay:
We're thinking about You...
Les Castels, 36 high-standard 4 and 5 star outdoor sites in France, all located in exceptionally vast and luxurious areas! Enjoy the sunshine and spend a week-end or holidays with your family at Les Castels, where you will undoubtedly find the campsite that is just right for you: from the smaller, peaceful, green and charming campsite, to the larger campsite with entertainment for the entire family, to the camping-club offering a range of activities so that your clan can enjoy an unforgettable break!