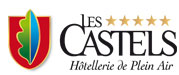 ANIMATION
Host: M. Chalvet

Opening dates
19/03/2016 to 29/09/2016
All services from -
244 pitches
Discover the charms of the Ardèche Gorges in a canoe or while hiking. This magnificent site includes Bidon and the Chauvet Caves, two Prehistoric sites. Treat yourself to a relaxing break by visiting the towns of Viviers and Ruoms.
special offers
Find out more about your campsite
Southern Ardèche seems like a vast nature reserve which has managed to preserve its Gorges and Pont d'Arc, its typical villages, its vineyards and its caves.
Within that reserve, at the entrance of the Ardèche canyon and 1 kilometer far from Vallon Pont d'Arc, the campsite l'Ardéchois, 5 stars from October 2010, will make you like and enjoy outdoor activities with family and friends, all that with an incomparable peace of mind.
Campsite : The paradise of the kids for well-being of the parents
L'Ardéchois
(Sud-Est, Camping l'Ardéchois)

Open from 19/03/2016: The Tour de France just 5 minutes away from the campsite
L'Ardéchois is open from 19 March 2016. Don't miss the Tour de France this year as it will go right past the campsite on 15 July 2016!
Date : du 19/3/2016 au 30/9/2016
Best Campsite 2016
The Ardéchois campsite has been elected Best Campsite 2016 by the German and Dutch guides ADAC and ANWB.
Date : du 19/3/2016 au 30/9/2016
Accommodation at your campsite
>
Retirer tous les critères
x

types of accommodation
meet your criteria:
Find out more about our accommodation
Campsites :
The site is flat, grassy and entirely tree-shaded. Two types of pitches: 100 standart pitches of about 100m2 with 6 amps electricity; some of them are equipped with water and drainage (extra charge). 120 comfort pitches of 140 to 200m2, all equipped with water, drainage and 10 amps electricity. All the pitches are situated less that 150 meters from a toilet block. Some special ones enjoy a riverside situation. The others are well situated in relation to the park, the entrance or the swimming pool.
Camping : sdb privées
Rentals :
The 24 mobile homes are situated on 3 paths of the campsite nearby the football field and at the same distance of the river and the swimming pool. The mobile homes are all equipped with a covered terrace and air conditioning. All of them are Lousianes and provide their inhabitants with good comfort, a double bedroom, a bedroom with 3 single beds (80cms large), a livingroom/sittingroom, a kitchen with a microwave, a bathroom with a shower and a separate toilet. The pitches are big and the car can be easily parked nearby.
Getaways and adventures

Hide detail

Adventure Course, Accrobranche Forest Adventure Course3 accrobranche courses, one of them is a zip-line that crosses the river.

Canoeing-KayakingOur speciality :rent the boats and start straight off our river bank for the mini tour of 7 kms, the medium one of 24 kms, or the big one (one day or two days with bivouac) of 31 kms. Any of them will make you sail under the Pont d'Arc. The return journey to the campsite is provided by a regular bus. Twice a week you can enjoy canoe and kayak lessons, and accompanied mini tours.

Canyoning, quad biking, mountain biking, hiking, speleology, climbingCanyoning, quad biking, hiking, mountain biking, cycling tours, speleology, climbing, wildlife discovery; for all those activities, the departure or meeting place is in the campsite or in its close vicinity.

Pony Trekkingin accompagnied groups or individually.

Hikes, walks and tourist routes

Find out more about our activities

We have been proposing simple family animation for a long time. Even in low season, there are a lot a different activities. In high season, a team of five activity leaders is here everyday except Saturday. For little children arts and crafts, for teenagers sport activities, for the olders the pleasure to see the kids having fun and for everyone outside excursions (hiking, horse riding and tours). A good meeting framework which guarantees the best holiday memories and often new friends to share them.
Find out more about our facilities
Our facilities have all been renovated in the last five years. Cleanliness and hygiene are essential. Safety as well, in order to let everyone have the most comfortable holidays.. Our staff is specially trained to please and satisfy your needs during your stay.
Reception, Staff and Activities

Hide detail

Entertainment/Activities5 activities leaders organise activities for all generations of holiday-makers. They are on site 6 days a week with a new program every week. All of them speak French and English, plus German or Dutch for some of them. Twice a week, a professional music band or show is programmed on our stage.

WelcomeTeam

Safe deposit
You will like :
Close to the Pont d'Arc
Direct access to the river and the beach
Rates & availability
Information and bookings
+33 (0)2 23 16 03 23
By telephone:

>

Call me back
By mail:
> Contact us
Directions & map
Vallon Pont d'Arc
Region Southeast - Between the Provence and the Mediterranean, the natural reserve of the Gorges of the Ardèche offers its visitors a splendid panorama! 07150 Vallon Pont d'Arc
Tel. :+ 33(0) 4 75 88 06 63
Fax :+ 33(0) 4 75 37 14 97