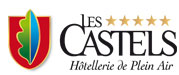 Terms and Conditions
Publishing Director:
M. Régis de Lussac
Project Manager:
Maud Le Men.
Photographies :
© Peter Allan
Tel : +33 (0) 6 7449 8028
peter@peterallan.frr
Use of collected data
The data that you provided to us during your visit to the site will be digitally processed by Les CASTELS. They are used for processing
Respect of author's rights
© Copyright 2011 Les Castels.
All rights reserved. The use or reproduction in whole or in part of the text, images or graphics published on this website is strictly forbidden without the consent of the website owner.
LES CASTELS
Manoir de Terre-Rouge
35270 BONNEMAIN – FRANCE
Tel. + 33 (0) 2 52 56 03 73
Site réalisé par :
Conseil, Développement, Hébergement :
Net STIM sarl - 95 rue Montmartre - 75002 Paris
Tel : +33 (0) 1 4028 4829 - www.netstim.net
Respect for privacy and personal data
Right to access and modify
your data. In accordance with current regulation
regarding the protection of individuals with regard to the processing of personal data, this site has been declared to the CNIL (French National Commission for Information Technology and Civil Liberties).

You have the right to access, modify,
correct and delete data concerning
you (Art. 26, 34 to 38 of the Law
No. 78-17 of 6 January 1978 regarding Data Protection, amended in August 2004).

To exercise this right, contact:
Les CASTELS - Manoir de Terre-Rouge
35270 BONNEMAIN - FRANCE
Use of cookies
www.camping-castels.co.uk uses cookies for visitors to their website. They are intended to inform us of your visit. The information regarding your visit is only stored for statistical purposes. It allows us to improve the functionalities and the information provided by our site, to better meet your needs. It is not shared with third parties. We remind you that your browser possesses options that allow you to refuse cookies, to be asked before accepting cookies, or to delete cookies.